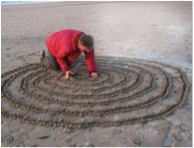 PRESS RELEASE – In the many challenges we face in the future, creativity is at the forefront for helping us understand and develop solutions for a healthier planet. The creativity needed for a sustainable people and planet is an art form which encourages new methods of thinking.
On Thursday, April 9th, Environmental Artist Jay Mead will discuss the "Art of Sustainability," stimulating exploration and creativity as essential approaches for achieving personal and professional goals, for creative problem solving and for better understanding and working with systems. According to Mead, "Creative problem solving is essential for addressing the many challenges we face in bringing about a sustainable future for people and planet. Sustainability is an art. And art helps us break through old ways of thinking to get to sustainable solutions. Sustainability should be inspiring, fun and so fully integrated into the way we live that we will no longer need the word. This is work that engages our hearts and minds." Mead is this year's Miller Worley Environmental Leadership Lecture, sponsored by the Miller Worley Center for the Environment.
The talk will take place on April 9th at 7:30pm in Cleveland Hall, Room L2, on the campus of Mount Holyoke College. Mead's lecture will be followed by a Community Art Installation on April 10th from 10am-5pm in the Mount Holyoke College rose garden (rain site: entrance to the Art Building). Everyone is welcome to participate!
While on campus, Mead will also facilitate a workshop in Geography 312: Sense of Place, Sense of Planet. "I invited Jay to lead a workshop in my seminar because I wanted to provide students with an opportunity to think about sustainability through another lens, engage with a different way of knowing, and gain greater fluency in considering complex challenges in creative ways," says Serin Houston, MHC Professor of Geology and Geography.
Mead has been creating environmental art for over 30 years. He has worked with Bread and Puppet, Cristo, The PuppeTree and was a core member of Wise Fool Puppet Intervention. His work has ranged from large installations to processions and performances. Aside from the USA, he has participated in projects in Germany, the Czech Republic and Brazil. He majored in Visual Studies at Dartmouth College and has held artist residencies in both Painting and Sculpture at the Vermont Studio School and Skidmore College, respectively.
This series of events is co-sponsored by the Departments of Geology and Geography, Art, Environmental Studies, and Architectural Studies, the Office Student Programs, and the Office of Religious and Spiritual Life. For more information, please contact Ruby Maddox at 413-538-3091. See Mt. Holyoke's announcement of the event here.