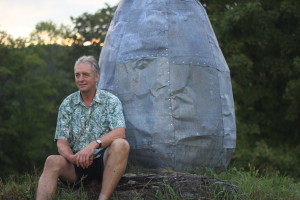 The annual LandARTLab kicked off a few weeks ago at King Farm, in Woodstock, VT. Sculptures were scattered across acres of old farmland with magnificent views of the green mountains in the distance. Thirteen different artists contributed to the show, with sculptures ranging in media and content from tiemless abstract forms to current day political statements about mass school shootings.
It was a beautiful evening and visitors to the exhibit walked the land, taking in the art, while many set up for picnics as the steamy afternoon gave way to a proverbial August evening. Several groups of people stayed to watch the harvest moon rise over the works of art, and the picturesque King Farm landscape.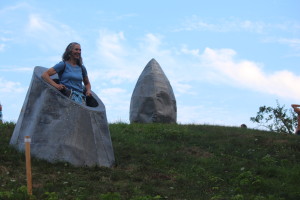 It was wonderful to have a chance to see many friends, old and new, and to have the chance to enjoy work from other artists. Edie, Cedar, Silas and I (and Leo of course) thoroughly enjoyed the evening. I felt especially blessed to share this opening with my dear Venezuelan friend, Sandro Oramas and his daughter, Alejandra who I have not seen for twenty years.  Sandro is a gifted photographer; we collaborated on various projects when we lived in San Francisco. I am hoping a peaceful transition will take place in his troubled country and a sustainable path forward will be pursued.
Currently, my stack of ancient roofing metal is beginning to dwindle. There may be enough material left for one or two more pieces, at most. The waste stream of pressure treated wood seems endless so I am sure I will be continuing to find ways to re-purpose materials. Hopefully soon I will be installing "Dormant" in the community garden of Hartland, thanks to the generosity of Todd Alexander, who purchased it in memory of his late father.